Social media marketing trends change as social platforms add new features or modify their algorithms. For example, Instagram Stories. Snapchat's FOMO-inducing disappearing content was a big drawback a few years back. However, there wasn't a lot of demand for similar features on other networks. Today, more than 500,000,000 people use the feature every day on Instagram. And more platforms are adding similar features.
This is a testimony to how fast we adopt new social media trends.
Social media marketers and brands face new challenges as they must constantly evaluate their strategies and adapt to new content. Marketers must constantly keep an eye on the latest trends in social media marketing to ensure that they are adapting accordingly. Businesses are now embracing social media as a valuable source for business intelligence after a year of transformation.
You're in the right place if you want to know what social media trends are in 2021. To help you grow and adapt, we've compiled a list of the most important trends to keep an eye on.
Top 8 Social Media Marketing Trends For 2021
I am just breaking down the list of the top 8 Social Media Marketing Trends below:
Live streaming will continue to be popular
Stories are a form of content
Social media will make virtual reality more popular
Augmented Reality as a Media Trend
Social commerce will continue its growth
Campaigns that are purpose-driven should be the center of attention
Inclusivity will be more important than ever
Transparency and authenticity will be the foundation of your success
Let's explore in-depth the top social media marketing trends listed above.
1. Live streaming will continue to be popular
Many businesses went digital in the wake of the global health crisis in 2020. However, they were able to preserve social distance and stop the spread of COVID-19. Zoom conferences were transformed into face-to-face meetings, and live concerts became live streams from the comfort of their own homes.
Live streaming is on the rise, so it's not surprising that there has been an increase in social media users using live streaming. Facebook saw a huge rise in live streaming and messaging, particularly in COVID-19 hotspots such as Italy. In just one week, Instagram and Facebook Live saw a doubled increase in views.
The situation will continue to change in 2021. However, consumers have become accustomed to the ability to interact live with brands without ever having to leave their homes. Live streaming will continue growing in popularity and should be part of your social media marketing strategy.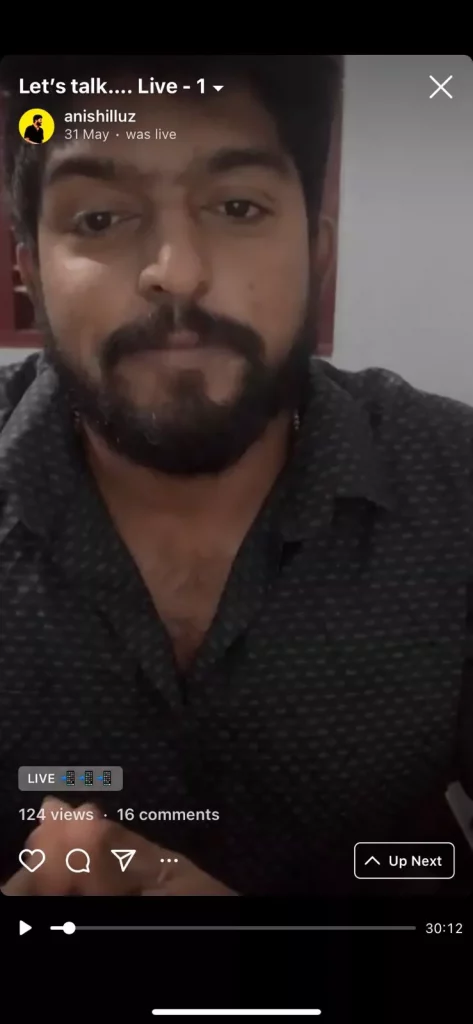 According to the Sprout social index, 25% of marketers believe that live video is the best type of content for achieving their social objectives.
2. Stories are a form of content
More than 500 million people interact with Instagram Stories each day, as we mentioned earlier. Despite Instagram Stories being a dominant content format last year, they are not likely to disappear anytime soon.
If they haven't, brands will need to adopt a more structured approach and include Stories in their publishing calendars. Videos as Stories will be more popular than photos, and this is a big plus.
A SocialInsider study showed that Stories with images have a 5.65% greater tap-forward rate than videos. The tap-forward rate refers to how many people saw your Story before moving on to the next. This analysis also showed that Stories had more drop-offs than videos. This indicates that people spend more time watching videos.
It's no surprise that 51% of brands already use Stories videos, and this number is likely to increase in 2021.
3. Social media will make virtual reality more popular.
People are looking for more meaningful interactions online, despite the fact that they have to stay at home and need social distancing. One of the newest technological trends is virtual reality (VR). It can help them have those meaningful interactions.
You can interact with people via VR and feel like you are actually there, even though they may be miles apart. This is exactly the kind of experience people need when they are socially distant.
Virtual reality is expected to gain more popularity on social media in 2021 as platforms continue to incorporate this technology.
Facebook Horizon is one example. Facebook Horizon, a virtual world that allows users to explore, play games, and connect with other people, is being beta-tested by Oculus VR in early 2021.
Also Read: How to link an Instagram to Facebook Page
4. Augmented Reality as a Media Trend
Recent events, similar to virtual reality, have increased the adoption of Augmented Reality (AR) experiences in the social space. AR is accessible from any smartphone. It doesn't require any additional hardware. AR is also well-known for years of experience with dynamic photo filters, which have been used on many social media platforms over the years.
Augmented reality experiences can be interactive and engaging.
This trend is quickly catching on with brands who are creating AR filters to promote new products and encourage interaction. With the right promotion, this can keep your audience entertained and engaged.
McDonald's has a great example: The Spice Zapper filter allows you to zap nuggets when they fall.
AR is a great way to drive sales, even though brick-and-mortar retail will be limited in 2020. AR shopping options that allow you to 'try on" products with your smartphone camera were introduced on Instagram in 2019. AR experiences that let users envision products in their own homes are likely to continue driving sales.
Your brand could stand out by creatively incorporating AR into your social marketing strategy for 2021. According to the 2020 Sprout Social Index, creative and entertaining content are key factors in a brand's social media presence.
5. Social commerce will continue its growth
We're seeing more tools and features that allow for quick and easy shopping as the social media industry continues to evolve. Instagram allows you to easily add product tags and allow easy checkout from within the platform. You can create a Shop on Facebook that allows people to browse and purchase directly from the platform.
Already, you can see ThreadBeast opening such social media storefronts.
This could be a great opportunity for marketers to use in 2021, particularly considering the importance of social media in purchasing decisions. 54% of social media users search for products via social media. Social media referrals can also influence 71% of users' purchase decisions.
When you add Social Commerce to this equation, it simplifies and reduces the customer journey. Your customers don't have to search the website for a product that they see on social media. It is possible to buy the product directly from the platform which will reduce abandoned transactions.
In fact, a buy button can increase the probability of purchasing and help move transactions on social media.
Social media is the future of social media. This includes setting up social media storefronts and making posts shoppable through social commerce. You could lose potential customers if your strategy isn't updated to meet changing customer behavior. This is one of the important things in social media marketing trends if you want to grow your e-commerce business.
6. Campaigns that are purpose-driven should be the center of attention
Social media has been a driving force in engagement with causes for years, but the global pandemic has put these causes under more spotlight. People are more willing to give back than ever and expect brands to do the same.
A Twitter survey found that 74% of respondents want brands to display acts of kindness. Brands that support the community during the crisis are perceived positively by 77%.
Brands will likely help out in any way they can, even for 2021, through purpose-driven social media campaigns. 86% of those surveyed want brands to help vulnerable people in their communities. 82% also expect more support from frontline healthcare staff.
Unilever is one of the companies that has taken emergency measures to help.
Brands have had to navigate multiple crises in 2020. This has highlighted the importance of authenticity and supporting their marketing actions. It is crucial to know when to engage, and when to withdraw from sensitive issues that are not relevant to your brand. Brands should demonstrate leadership and take meaningful action on social issues rather than exploiting them for marketing purposes.
7. Inclusivity will be more important than ever
It is becoming more important for brands to include inclusion in their marketing and business operations. People are aware that there are many options. This makes it easier for them to invest in causes and communities that are important to them.
Brands must keep up. It is no longer possible to remain silent or passive on issues that your target audience cares deeply about. An Accenture study showed that 29% would choose a brand that is committed to diversity and inclusion.
But audiences are becoming more aware of performative activism, which can look more like a marketing strategy than a meaningful contribution. Make sure your content about inclusivity is well-informed. And make sure your brand is ready for action. These social issues are not something to be ignored.
In 2021, inclusion will be a bigger focus for brands that want to make deeper connections with customers. Your brand's social media presence must reflect the views of your customers on diversity and identity. You will miss a vital opportunity to connect with them.
Fenty Beauty is known for its comprehensive line of beauty products. Fenty Beauty's social media presence reflects this philosophy by regularly featuring real users of its products.
8. Transparency and authenticity will be the foundation of your success
Brands must be real to consumers. This means being authentic and transparent about your products and business operations. You must be open and honest if you want people to trust you.
Social media is a great way to achieve this. According to the 2020 Sprout, Social Index transparency and engagement are the two most important factors in a brand's social success.
You can admit to your mistakes through a social media message. Your customers should feel free to reach out to you if they have any questions or problems. Instead of just deleting negative comments, address them directly and show your concern for their problems. Social-savvy audiences are more sophisticated than ever so it's impossible to ignore, delete, or sweep under the carpet missteps.
Sprout Intelligent Inbox makes this easier by allowing you to save replies templates and tag messages. You can also filter your inbox across all channels using tools like Sprout Smart Inbox. This tool can be used to catch important messages and prioritize them within your team.
Are you ready to keep up with the latest trends?
You can build a stronger online presence by anticipating the latest social media marketing trends. You will be able to identify the latest social trends and adapt your social media marketing strategy accordingly.
Social media marketers know that it is important to keep researching trends and online consumer behavior. This will help you determine which trends to look into, how to navigate through new online situations, and what strategies to use.
Here is a Social Media Marketing Trends Report by Hubspot that provides insight and quotes from social media marketing professionals. It also contains data about how COVID-19 may impact social media marketing. Click here to download the report or the banner below.
I hope you have got some latest social media marketing trends. These are some of the social media marketing trends that will dominate the social media landscape in 2021 and beyond. Leverage these trends to your advantage and stay ahead of your competitors in Social Media Marketing
Which social media marketing trends do you think are the most important to the future of social media marketing? Let us know in the comments.